Spring is the most important time to care for your lawn in Kansas. If you want healthy green grass for the majority of the year, you'll want to start preparing your lawn just as winter is ending.
Plan Around Your Grass Type
If your lawn has fescue or rye, they are cool-season grasses, and they have growth spurts in spring and fall. In the Wichita area, we have a combination of warm-season and cool season grasses. Some of the warm season grasses are Bermuda and Zoysia. Warm season grasses green up later in the spring as we approach summer. The more you know about your particular lawn, the better care you'll be able to provide.
Treat for Weeds in Early Spring
Stop weeds like crabgrass before they take over your lawn by applying a pre-emergent herbicide in the spring. This is the most important weed treatment of the year, because it stops weeds before they can damage your lawn.
We recommend having your pre-emergent applied in the months of March or April, and again in May. In the Wichita areas a general rule of thumb is crabgrass will germinate around once the ground temperature reaches 55 degrees.
If you have not applied your pre-emergent by then you will more than likely have a break out of crabgrass in your lawn during the season. Pre-emergent is the best control of crabgrass and many broadleaf weeds. If you do end up with dandelions, henbit, and chickweed, a liquid herbicide application can kill the weeds during the summer.
Maintain Your Equipment
Sharpen or replace your mower blade at the start of the mowing season. A shape blade creates a clean cut that allows the grass to recover more quickly. A ragged tear weaknes the blade and can promote grass diseases.
Next, make sure you have gas on hand for your lawn mower and trimmer. Change your mower's oil, spark plugs, air filter etc., as needed.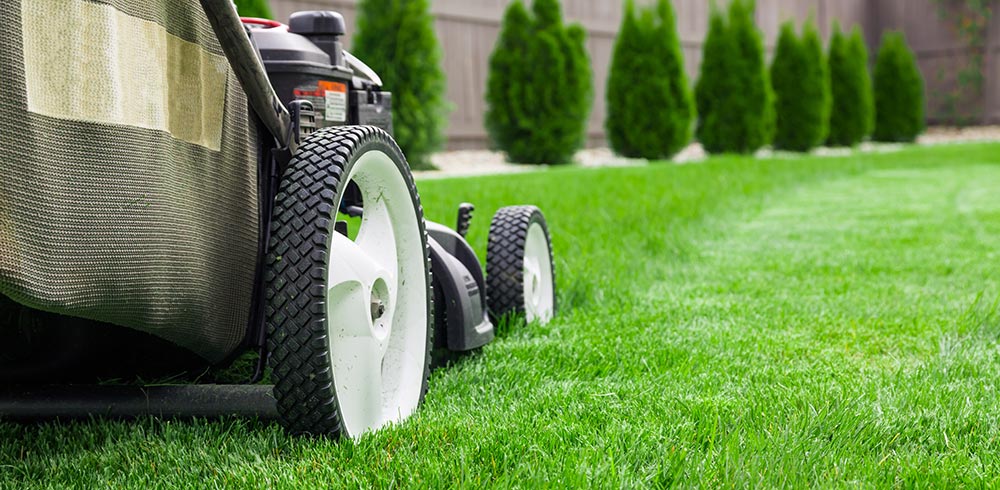 Lawn Scalping
Scalping lawns in the spring is reserved for thick warm season grasses like Bermuda and Zoysia.
Scalping removes the dormant white colored grass from your lawn. It helps prevent thatch through the summer months. It also increases the amount of sunlight that reaches the soil, promoting growth.
Fertilize
Plan on applying fertilizer to most lawns after the last frost of the year. This will be about the time your yard has turned green and the grass has begun to grow. In central Kansas, this will typically be in late April or early May. Cool season grasses like fescue should be fertilized earlier in the spring, while bermuda can be done closer to summer.
Clean Up Debris
When your lawn is dry, pick up leaves, twigs and other debris. Doing so when the ground is wet can damage new grass. This is also a good time to put away any children's toys or other odds and ends that are sitting on the lawn, before they can cause dead spots in the grass.
Prep Your Sprinkler System
If you're in a new home, or just want to see what can be done to improve the condition of your soil, the Sedgwick County Extension office can do a soil test. It takes about 2-3 weeks to get your results, which will include nutrient and pH levels, as well as suggestions for improving both. Knowing the make-up of your soil will allow you to adjust fertilization and watering to ideal levels.

Test the Soil
If you have a sprinkler system, schedule your startup for right after the last bouts of snow and freezing temperatures. Kansas weather is unpredictable, so having your system ready before the summer heat arrives is a good idea. This is also a great time to repair or adjust sprinkler heads and have your backflow tested.
Sprinkler companies in Wichita tend to get very busy in late April and into May, scheduling in the spring ensures the system will be ready when you need it. You'll probably need to start watering as soon as your grass begins to grow around April.
Aerate
If you have warm-season grass, you can aerate your lawn in the early summer, during the peak growth period. Aeration for cool-season grasses is best in fall. Using a core or spike aerator to remove small plugs of dirt and grass will allow the roots to spread out and moisture, oxygen, and other nutrients to easily absorb into the soil. You can rent a mechanical aerator or use a manual one.
---
Maintaining a healthy lawn does take a bit of time and effort, so if you don't want to do all this yourself, let the professionals at Reddi Lawn Care take care of it for you. Call us today at 316-858-0736 to schedule your service.
Resources found on our website are provided as general guidelines, and Reddi Industries does not assume any liability resulting from the provided information.